"They are absolutely delightful with their coffee, food and service."
PT on TRIP ADVISOR
Trip Advisor are pleased to present us with the 2019 Certificate of Excellence and Hall of Fame, for offering our Customers consistent friendly service together with great food, coffee and atmosphere for the past 5 years.
Palate & Ply Espresso Bar , Cafe & Roastery, providing fantastic coffee with a clean, smooth taste, and manned by a team of passionate professionals is conveniently and centrally located in the CBD of Coffs Harbour. Designed to showcase fresh & healthy food, the latest in equipment technology, seasonal coffee attributes  & coffee geek-gadgets perfect for the home, around the campfire all in a vibrant relaxed atmosphere for all to experience. 
Looking for a platter for your next business meeting? We also cater for Account Executives visiting local professional practices lunch orders
A great function venue and meeting place with free fast wi-fi.
You'll find us at 37 Vernon Street Coffs Harbour
Check out our great retail products in store
Fantastic Coffee Blends or our popular single origin beans (You are welcome to make your own unique blend mixing beans at our 'Hopper' section), syrups, and accessories are available.  Check out our in-store display.
We've got everything from the popular Aero Press, nanopresso, cold drip, V60 pour overs, hand grinders, coffee storage vaults, filters, knock boxes, tamp mats, jugs, glass drip, keep cups and a many more.
Business meetings, lunches, platters, functions & special occasions
We offer a perfect venue for Business meetings and lunches.
A great air-conditioned meeting place/venue with free fast wi-fi.
Looking for platters with wraps, rolls, cakes and slices or a venue for a special occasion or a business meeting? Give us a call and we will be more than willing to quote and or show you around our venue. Tel: 0434 700 910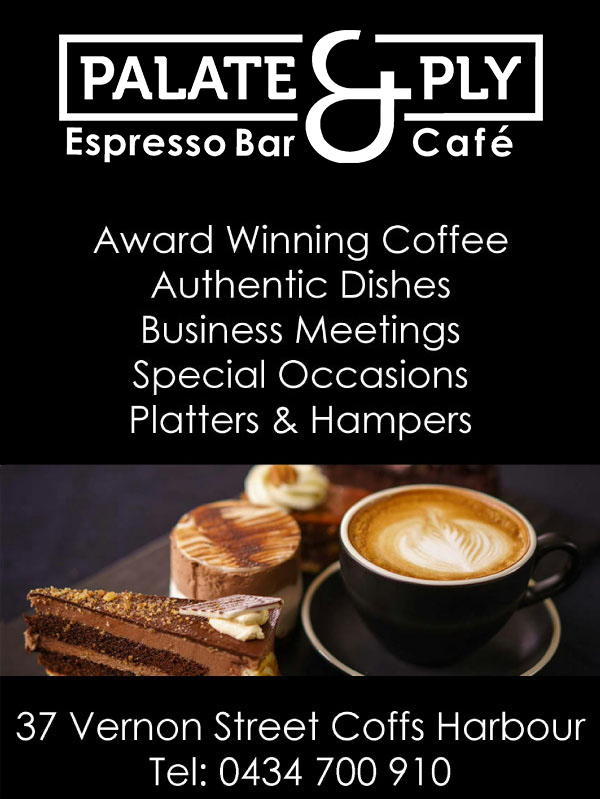 What's coming up at Palate & Ply..
Cycle Rides
Join in with the popular cycle rides, for beginner and intermediate riders, leaving outside Palate and Ply on a Monday, Wednesday and Friday morning at 5.30am. Returning for that well earned cuppa.
Nitro Coffee
Nitro Coffee is now being served at Palate & Ply, a first for Coffs Harbour.
Specially brewed cold pressed Coffee peculated with Nitrogen creating the creamy texture & head producing its own special flavour and aroma with less acidity offering chocolate and bright fruit flavours.
Watch the unique cascade as the head of foam forms, really cool to watch !
You can experiment with a dash of milk, vanilla or caramel syrup or even add a dash of ice-cream over a few blocks of ice.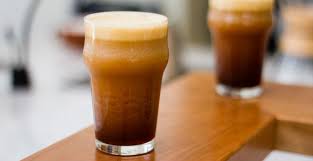 General Information & Blogs
We have a great versatile menu with healthy options. Only the best of local produce is used. Come on over to experience the awesome Breakfast, Brunch and Lunch Menus.
—————————————————————————————–
Fill out our Customer feedback form in store and be in the running to win a bag of Coffee!!
Open 6 days for Coffee, Breakfast, Lunch & Meetings
Monday to Friday | 6.30 am – 3.30 pm
Saturday | 7.00 am- 1.30 pm
Closed Public holidays except for Anzac Day.